The independent journalists at The Wealth Advisor, the voice of the financial advisor community, has selected Wealth Advisors Trust as one of their top choices for an advisor friendly trust company in 2019.
The constant drum beat of change continues in the trust industry. The demands of financial advisors and their clients for independent trust companies to provide beneficiary centric services continue. The rise and use of an advisor friendly trust company continues.
Our capitalist system rewards those that adapt. The best trust companies treat financial advisors like a celebrity. The trust industry over the past four hundred years was able to ignore that fact. To the benefit of trust beneficiaries and their financial advisors this fact no longer exists. Independent trust companies, founded on frustration with traditional bank trust departments, provide innovative and collaborative trustee service models. Control and choice are the facts of the day. The demands of detailed and efficient trustee services with ease of use separates the trust company winners from the losers. An advisor friendly trust company remains the leader in providing financial advisors and beneficiaries with client centric services.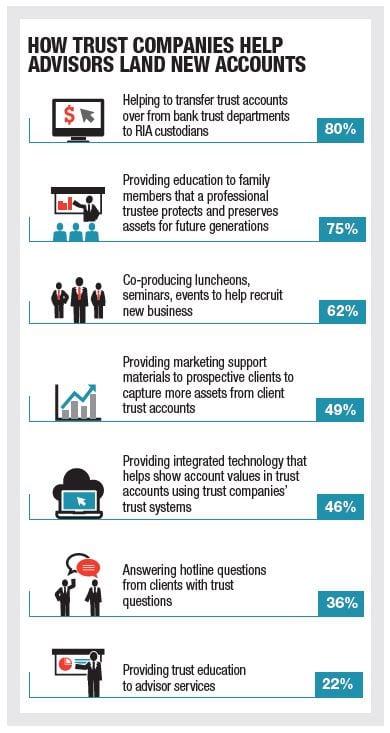 Financial advisors focus on helping clients navigate the perils of the financial markets with a balance on their financial plans remains intact. There remains a large source of new assets which advisors can reach - trust assets held at traditional bank trust departments. Historically, managing trust assets for independent financial advisors was cumbersome. Learning the ropes, so speak, required a dedicated mind and a wide band of time. The trust industry kept the knowledge away from financial advisors. Today, for the first time, a roadmap of trust law and the trust industry to assist financial advisors in managing trust assets now exists. Any advisor friendly trust company should provide such information advisors and their clients. Information leads to knowledge providing for wisdom.
Trust companies struggle to adapt to younger generation needs and wants. Every advisor friendly trust company must understand Millennials and younger generations. They view technology as a time saver. Interactions with people, such as trust officers in our industry, are best served when technology no longer can provide the solution. The trust industries challenge rests on balancing the need of older generations with the future generations. The solution lies in viewing trust administration services as a logistical process. For example, trust distributions are a key component of any trustee. The nuances on making trust distributions can feel overwhelming. Every trust company should view this process under a well known system in the technology space called, If This Then That or IFTTT. The entire process of how a trust distribution decision becomes a reality can be efficiently re-wired following IFTTT. No scared cows allowed in this process which poses a challenge for any traditional trust company. The mindset required for the trust industry demands adaptability and creativity. The ultimate rewards fall to the beneficiary as it should.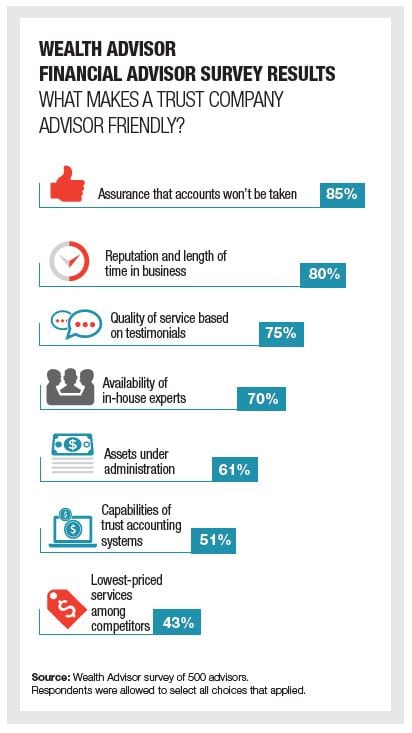 A recent survey of what makes an advisor friendly trust company did not surprise us. Any trust company servicing financial advisors states they will not take their clients. There are many subtle ways which companies such as CoMerica, RBC Trust Company, and BOK can hint that perhaps other options exist to a beneficiary seeking investment and financial planning advice. Financial advisors should take the time to carefully understand how all this shakes out.
What is the philosophy of any trust company? The answer to this question will help the advisor understand not only what motivates the trust company but how they view the trust industry. This question should be asked to every prospective trust company. An advisor friendly trust company should be able to explain the motivation for offering services to advisors beyond than just saying that there was a need to be filled. The source for our motivation was frustration with traditional trust bank departments. We believed their must and should be an innovative, collaborative and easy to use trustee service available to all. We are very bad at the status quo.
The availability of in-house experts relates only to estate planning or trust administration questions. If the trust company talks about their economic and/or market industry insights that should be a red flag. If the trust company offers to complete the trust tax return, advisors should realize this only means tax compliance not tax planning. Those are two very different services. Tax compliance means taking the information provided by the trust company and the custodian to complete Form 1041 and K1's for the beneficiaries. No thinking. No planning. Tax planning happens throughout the year and requires more work, knowledge and experience. Trust companies do not offer tax planning. We know as the co-founders all came from Ernst & Young. Best practice has shown to use a local CPA as chosen by the beneficiary(s).
To have journalists select us as an advisor friendly trust company is an honor. It is more than a cursory description. It is a responsibility we take very seriously and work hard every day to earn. We enjoy our work, our colleagues and our clients. Thank you.