Making waves in the 700-year-old trustee industry since its founding, Wealth Advisors Trust Company (WATC) has proven that not abiding by the status quo can lead to a mountain of success. The New World Report 2021 Awards look at the results, and WATC was awarded the Most Pioneering Trust Administration Company - USA award. Indeed, the trust company offers a refreshing take on what had become a slow and often intimidating industry. WATC approaches their work with a can-do attitude, and their optimism radiates throughout their innovative trustee services, leveraging the best of technology and creative human power.

Innovation - not just a tagline
Every company, frankly every person, likes a routine. Think about how we get up in the morning and follow a pattern on workdays and weekends. These routines make us feel good, save time, and evolve. A company needs to have purpose, accountability, and measurement to ensure habits become and are challenged for the betterment of clients, company growth, and employees. As humans struggle with not settling into a rut, companies struggle with settling in with the status quo. The team leaders of WATC love change.
"You want to change...you have to go to it; it will not come to you."
The team of Wealth Advisors Trust Company co-founders believe and know that innovation cannot be a tagline. The company's four core values, which make up the company's culture (growth-oriented, can-do attitude, open/honest/vulnerable, & adaptive to change), allow innovation to happen because we challenge our internal status-quo processes on an annual basis.
Employees - the agents of change
Does that mean the process runs the show, and employees can rest on their laurels? Sadly no. Many examples (e.g., Kodak, Blackberry) of companies with top, highly educated, and accomplished employees who never challenged the status quo throughout history. These companies have company leaders who were never comfortable cannibalizing a high cash flow department to grow with emerging technology.
"Employees must believe by seeing that the leadership team is walking the talk."
WATC employees have embraced the four core values embodying the company's culture. Over the last decade, this embracing has allowed constant innovation via employee collaboration and the freedom to make mistakes. Making mistakes happens when innovation is an integral part. The leadership encourages employees to take risks, challenge the status quo, and always be asking, "Why are we doing it this way?" Not just to each other but the leadership team. Companies encouraging fresh ideas from the top or bottom are the ones that provide evergreen growth and great customer experiences.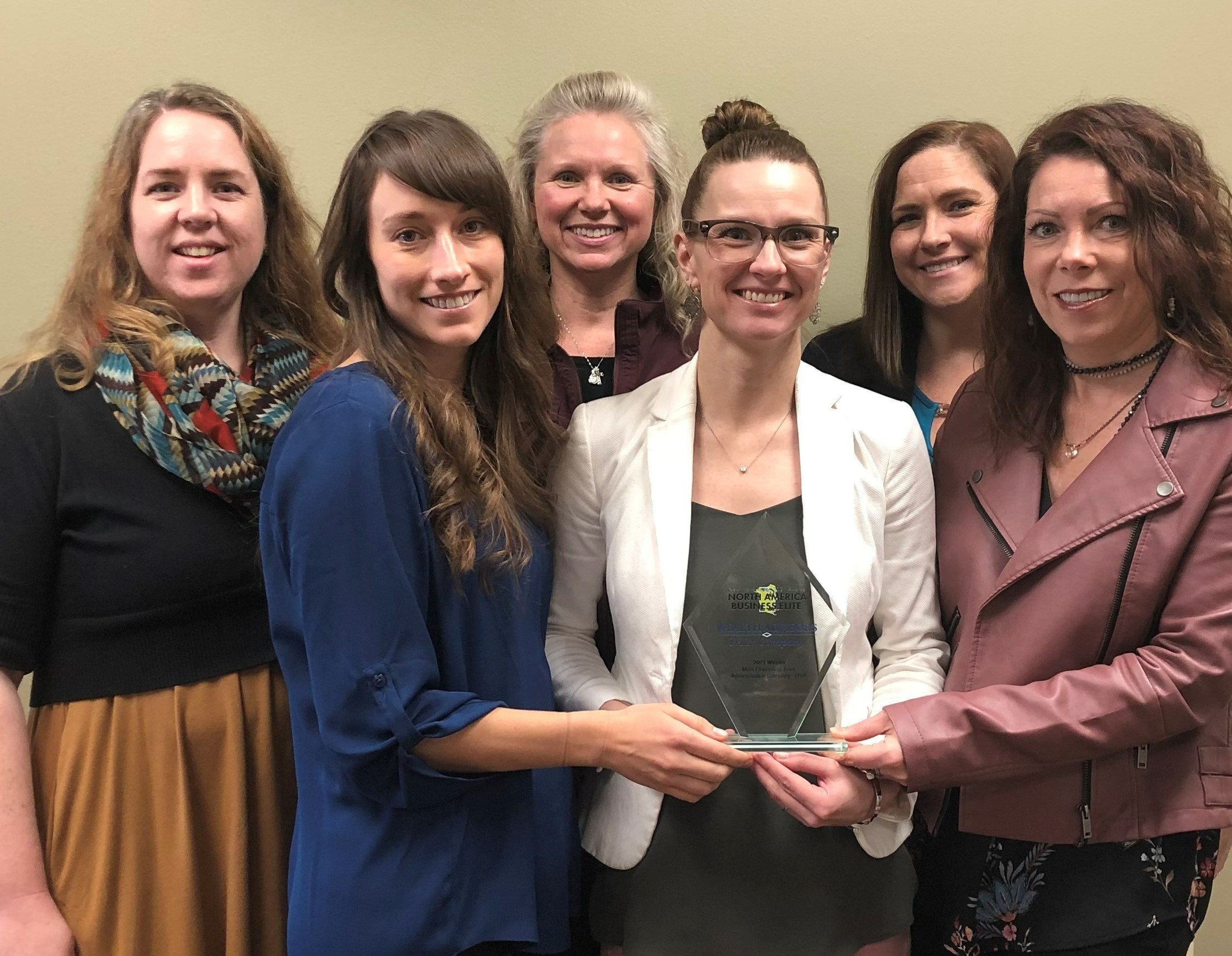 WATC employees (Allison Creelman, Marlana Lee, Kate Storhaug, Jessica Kyle, Nina Fillis, & Jami Kuchenbecker, missing Jearon Cambron)
Additionally, the company believes that its clients should have the power to choose their financial solutions. Aware that collaboration and effective communication is the key to success, it understands that there will be times in which its clients need guidance or have questions. Ultimately, it hopes to provide a service that clients can trust.
Wealth Advisors Trust Company's internal culture is backed by why the company exists ­­– it wants to change the face of the trustee industry. Every action they undertake is challenged by the simple ideology that the team needs to understand why they are doing tasks in a certain way. Expecting its squad to consider the question constantly, it hopes to promote idea generation and creativity, transgressing the current limits of the industry.
Unlike many businesses, Covid-19 had no impact on the company as its workflow and customer experience have relied on cloud-based solutions since 2015. Having a pre-existing relationship with technology has benefitted the company and has made adapting to primarily technology-based work easier. However, as Blockchain becomes a prominent force, Wealth Advisors Trust Company cites it as a potential challenge. With this in mind, they have mapped out a blueprint for its transition from SaaS solutions to its workflow, leveraging blockchain technology's power and freedoms.
Future - trustee industry in South Dakota
The trust laws of South Dakota are cutting edge. Part of these results comes from the Governers Trust Task Force of trustee industry leaders pushing the envelope of trust innovation. This innovation and trustee industry concept does not usually go hand in hand. It does in South Dakota. Comparing the trust laws of other states still sees South Dakota trust laws come up as the innovative leader. This should make any client or advisor using an advisor-friendly trust company, like WATC, feel comfortable that the trust laws will stay up with innovations.
"What have you done for me lately?"
Great, WATC was awarded and recognized for innovation in the trustee industry. That is now the past. What about the future?
The trustee industry will be challenged with the oncoming changes with technology and the balance with human actors. WATC is not different. Blockchain will remove the impediments offered by intermediaries (e.g., title company's), and the trustee services will become much more effective. WATC dislikes the status quo because it means there is nothing to disrupt. There is always something to improve upon. Core value drives us to look for those disruptions constantly. Frankly, that is just plain fun.
If a company, team leaders and employees, are not having fun, something is amiss.