Recently, we had a silly dispute on our weekly marketing call, Advisor vs Adviser, that sent us down a rabbit hole. It started with an argument on whether or not our recent email had spelling errors.
"Pretty sure its ER"
"It says OR in the company name, it's OR"
"Google says its ER"
panic.
This led to several more searches and our marketing team asking more questions. But, we got an answer:
Technically, Advisor vs Adviser means the same thing when describing financial services.
Regulators use the term Adviser to describe the process of providing investment advice. Comparatively, we view the term Advisor talking about the general description of financial advisors. Which made us think, could this make a difference in your marketing?
For example, we named our trust company, Wealth Advisors Trust, to describe why we do what we do. Knowing the term, adviser, legally references the act of providing investment advice, which is not something we offer, we opted for advisor.
But according to a recent article on grammarist:
"In the U.S. and Canada, advisor is commonly used in official job titles, but adviser is still generally preferred over advisor in North America, and advisor is only marginally more common in American and Canadian English than in other varieties of English."
Which asks the question: Are you reaching the maximum amount of potential clients?
Every advisor or adviser wants potential clients to find them via Google searches. To answer our question, we did some research on which spelling has the greatest search results.
What we found was really interesting.
According to this chart below from Google, the keyword Advisor dramatically outweighs the search term Adviser up until 2014.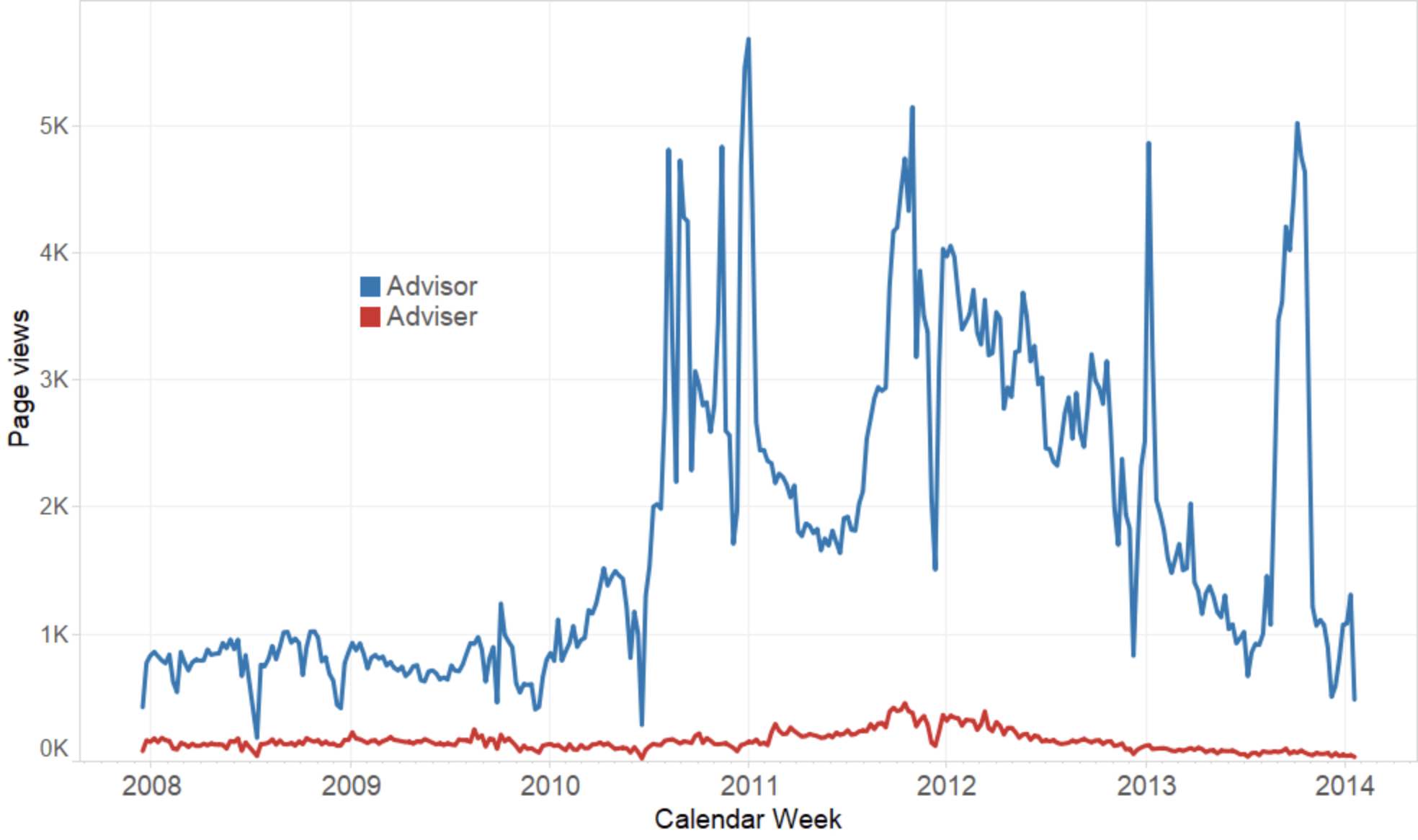 However, check out this chart we got from Moz, a highly regarded SEO + Keyword Research tool we use in our marketing department.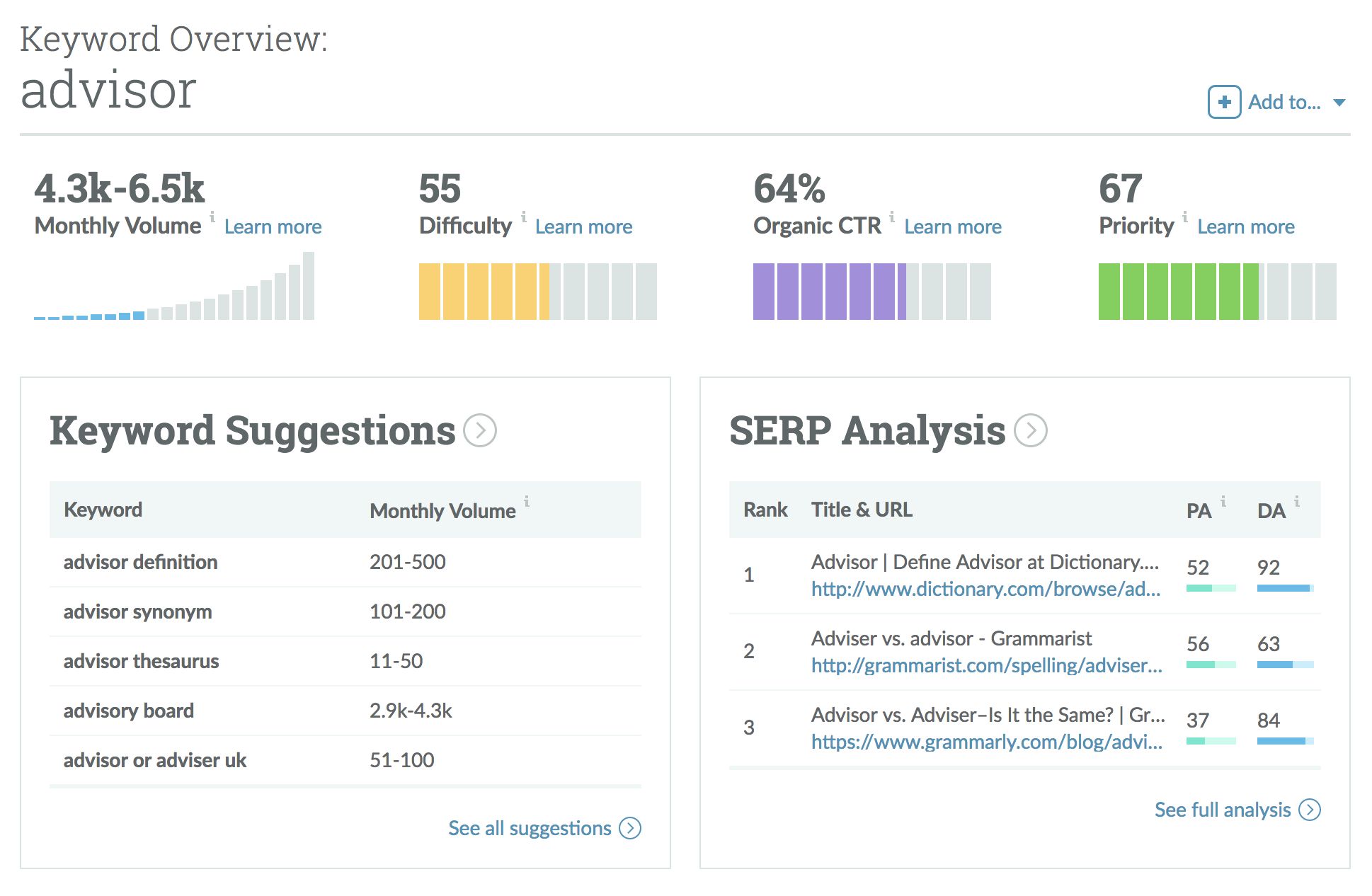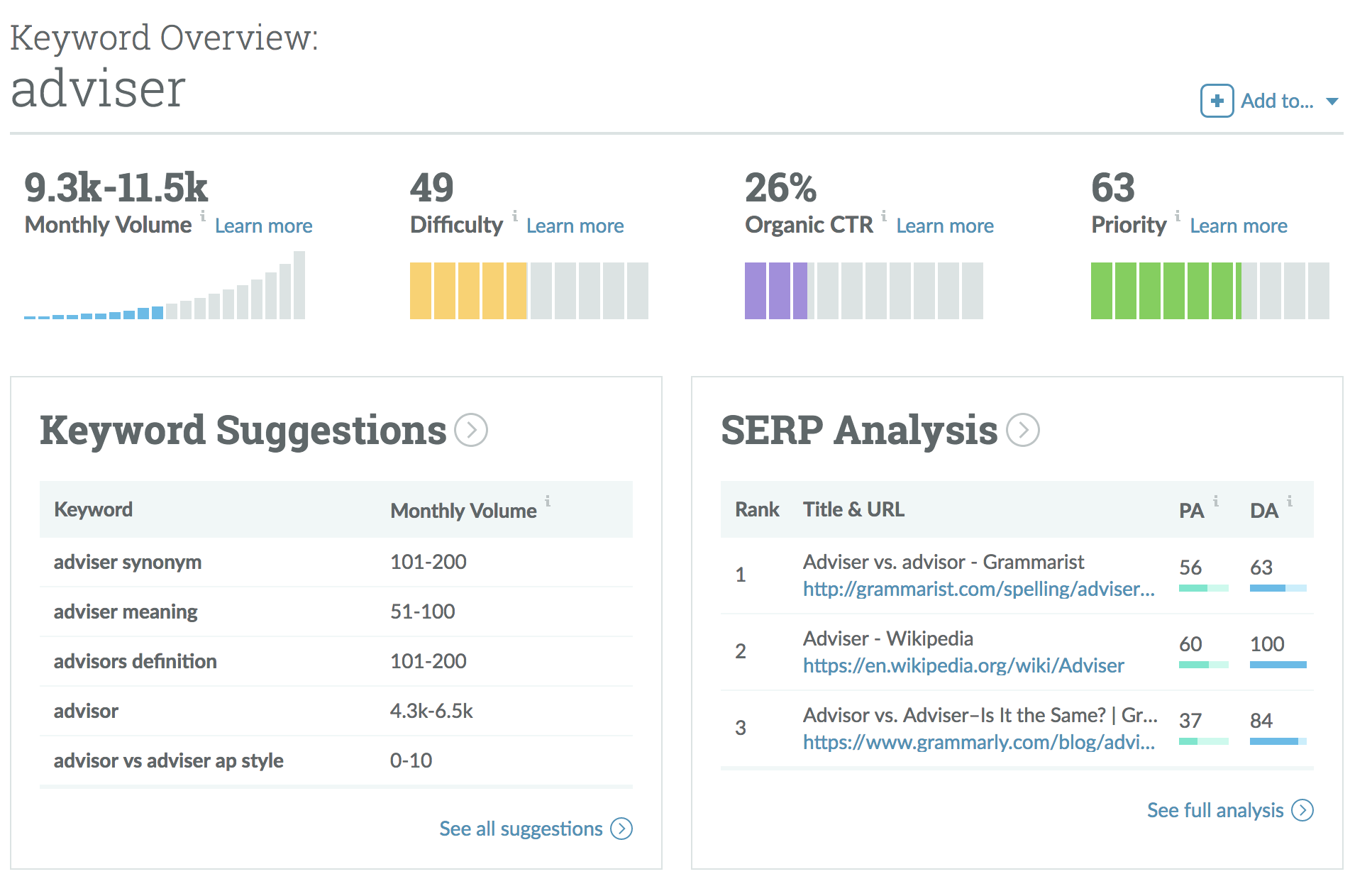 This data paints a different picture! According to this analysis, it's actually Adviser that has a higher search volume per month.
We might assume that it's obvious that Adviser is the best performing keyword. But before you start optimizing your entire site, check out an article on Organic Search or Click-Through Rate "CTR" if you are planning to implement pay per click "ppc" as part of your marketing strategy.
According to the chart above, the -or spelling actually has 64% CTR compared to 26% from Adviser. That's quite a difference!
If you're not familiar with CTR here is an awesome article that breaks it down.
In simple terms - you are much more likely to attract and capture organic searches using the Advisor spelling.
So where does this leave you?
Clients get confused with the differences between Advisor vs Adviser. So how can you adapt your marketing efforts, especially when our research shows conflicting data?
The Deep Dive
We continued our keyword quest by introducing search combinations. Our goal was to see if we got the same data longer key terms or key phrases.
We started with Google and the keywords Financial Advisor, Financial Adviser, Financial Advisers near me vs. Financial Advisors near me. We found some really interesting results, with "Financial Advisor" hugely outperformed against "Financial Adviser", the keyword "Financial Adviser near me" outperformed "Financial Advisor near me".
| | |
| --- | --- |
| Financial Advisor | 29.6 million hits |
| Financial Adviser | 5.98 million hits |
| Financial Advisor near me | 10.1 million hits |
| Financial Adviser near me | 14.8 million hits |
| Fee Only Financial Advisor near me | 1.9 million hits |
| Fee Only Financial Adviser near me | 4.6 million hits |
| Fee Only Financial Planner near me | 951,000 hits |
| Financial Planner near me | 18.2 million |
We performed the same test with Moz and to our surprise, we see that the Moz data echoes what we from the Google search information.
Financial Advisor vs. Financial Adviser


Financial Advisor near me vs. Financial Adviser near me


Fee-Only Financial Advisor near me vs. Fee-Only Financial Adviser near me


But surprisingly, we are seeing a steep decrease in search volume with the spelling Adviser when combined with other search terms or key phrases. And that's important; studies show that those visitors using long tail key terms and key phrases are closer to a point-of-purchase or actionable contact that visitors that do not.
The Take Away:
So what do we take about from this data?
If we were to choose a winner, Advisor would be the obvious choice, especially when you judge quality vs. quantity. You might opt a keyword strategy that is heavily focused on Advisor but that still features adviser on landing pages specific to that campaign.
The subtleties of building a website that maximizes the opportunities to be found using Google search are high. The question for your marketing strategy becomes which keywords should you highlight on your website. People searching for an Advisor or Adviser are not consistent in the keyword terms they use.
Our suggestion would be useful tools to analyze your website for user data and keywords important to your business. From there compare your website with the top 3 local competitors using tools like MOZ or other free resources. This will show strengths, low hanging fruit or areas of improvements. You might find something really interesting and simple, like a spelling dispute, that could really increase your organic traffic.
As we learn more we'll update this page and let you know how it goes. Leave us a comment!